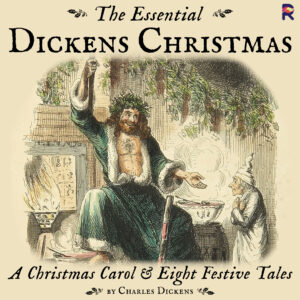 Perhaps the best known of Dickens' Christmas stories is A Christmas Carol, first published in 1843. The poet Thomas Hood wrote that "If Christmas, with its ancient and hospitable customs, its social and charitable observances, were ever in danger of decay, this is the book that would give them a new lease."
But A Christmas Carol is only one of the novellas that Dickens wrote to celebrate the festive season. In the audiobook The Essential Dickens Christmas (available now on Audible US and Audible UK) there eight more stories that showcase the range of the author's writing talents.
In the first of this two-part series, some of the Raconteurs narrators talk about the stories in this collection that they recorded.
A Child's Dream of a Star – read by Tim Bruce
If emotional intelligence is the hallmark of a great writer, then Charles Dickens must be one of the world's greatest and most compassionate. Seen through the innocent eyes of a child deeply pained by separation and loss, this tumultuous world of birth and death dissolves before his longing to be reunited with those he loves. His love transcends even death, and the shadow play of life is shown against the greater backdrop of a higher existence: the imaginative realms of freedom of the Spirit.
Nobody's Story – read by Malk Williams
I'm constantly amazed by how well Dickens' stories stand the test of time, and the extent to which his themes of the plight of the poor and the unfeeling cruelty of the rich and powerful still resonate today. Nobody's Story could easily have been written for 2020, with a description of rulers who bicker among themselves, until a terrible disease sweeps the land, threatening even them, and they are finally forced to listen to what Nobody – the long-suffering everyman – actually has to say.
The Christmas Goblins – read by Liam Gerrard
I'd never read The Christmas Goblins, or The Story of the Goblins Who Stole a Sexton, but it immediately struck me (as it will you too I'm sure), how similar in theme it is to A Christmas Carol. A precursor, being written about 7 years before Dickens' most famous Christmas story, the similarities are obvious and striking: the mean old man being given a lesson in morals and being shown how he should mend his ways by means of supernatural intervention.
However, there are important differences, which in my mind make this story stand out for its simplicity, yet at the same time shine a light on the literary brilliance and insightful social commentary of the later tale.
Firstly, our character here is socially inferior, being a gravedigger, compared to Scrooge who is a superior power in his community, with the ability to lend, recover and write-off debts as he chooses.
Our character is also physically nasty, striking a small boy multiple times; he's a brute! For all Scrooge's shortcomings he isn't a physical bully in the same way. His nastiness is more psychological and financially driven.
Thirdly, our protagonist's redemption has little to no effect on those around him, his betterment serves only his own ends. Scrooge's change on the other hand, serves many other people and a whole community is better off because of it.
Fourthly, the supernatural demons here are unwelcome, frightening and distant. Whereas the ghost of Christmas yet to come is one of the most frightening literary characters ever conceived,  the ghosts of Christmas past and present aren't scary and present positive aura.
See what parallels and differences you are able to draw between the two stories. Which one do you prefer – and what do you think of it? I hope you find it as interesting and fun as I do!