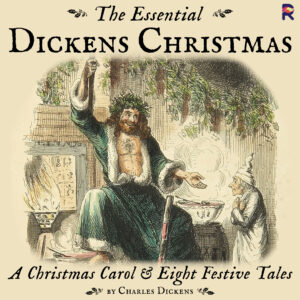 In our first post about Charles Dickens' Christmas Stories, we looked at his novellas A Child's Dream of a Star, Nobody's Story, and The Christmas Goblins. Today, in this second post, Raconteurs narrators look back at more Dickens festive stories that they have recorded for The Essential Dickens Christmas, available now on Audible USA and Audible UK.
A Cricket on the Hearth – read by Helen Lloyd
This is the third of Dickens Christmas Novellas to feature in our collection.
It is quite unlike much of his other work in that it abandons the social criticism, current events and topical themes that are central to so much of Dickens' writing and is really a simple fantasy – though it does have a moral thread running through it and more than one character is 'redeemed' by the time the story reaches its conclusion. As a stage adaptation, A Cricket on The Hearth was for many years much more popular than A Christmas Carol.
The cricket of the title chirps upon the hearth as a kind of guardian angel in the home of John Peerybingle, his young wife Dot, their new baby and their nanny Tilly Slowboy. One day a mysterious stranger arrives at the house and takes up lodging for a few days and their lives are turned upside down. Life in the Peerybingle household intersects that of Caleb Plummer a poor toymaker who lives in poverty with his blind daughter Bertha; Caleb, who also had a son Edward, who travelled to South Africa, and is believed to be dead, is employed by the miser Mr Tackleton. The three 'Chirps' or chapters weave the stories of The Peerybingles, Mr Tackleton and Caleb Plummer into a charming and sentimental tale.
I thoroughly enjoyed narrating this story. It is sweet and sentimental certainly, but it is beautifully written, and I found it strangely affecting despite its sentimentality. It's a study in love and truth and faithfulness. William Makepeace Thackeray said of it "To us, it appears it is a good Christmas book, illuminated with extra gas, crammed with extra bonbons, French plums and sweetness".
The Haunted House – read by Greg Wagland
I didn't know The Haunted House and when I started reading it, I thought it was going to be rather formulaic and predictable. Juvenilia or writing to provide for his large family – dashing it off.
Of course, I was wrong. It starts off with a gentleman moving to a large house in the countryside; the comedic and mostly dull-witted servants are very superstitious; supernatural events are expected at any moment whilst a gradual ramping up of tension is frequently undercut by various slick devices. But in the end Dickens makes this ostensibly slight story truly philosophical, unexpected, poignant, sad and – terrible word though it is – relatable. A story to ponder, a story you need to travel to the end – and then maybe retrace your steps once more…
As a reader you are instantly at home with Dickens: he was a great performer, a consummate showman and his writing effortlessly gives you the timing, the clues, all the stage directions you need. Unlike many contemporary writers you don't have to add value with Dickens. No heavy lifting is required. What an absurd notion!
The Chimes – read by James Gillies
For me, being asked to narrate The Chimes was like winning first prize in a lottery!
I first came across this story as child, not as a book but as a silent black and white film screened one wet Saturday afternoon on television. Replete with all the shadows and magic lantern tricks of the period, its story of one man's journey beyond the limits of his imagination persisted with me well into adulthood and later still I was to enjoy listening to Derek Jacobi's lyrical but highly expurgated version in the 1990s.
I finally came across the actual book courtesy of my wife. She had inherited a 'trench edition', a slim volume small enough to fit in a soldier's pocket as he sheltered from enemy fire at the Front during the Great War. Like the film, this too was produced in 1914. The book was itself written in 1844. It is narrated here wholly unexpurgated for the first time.
I do hope you love it as much as I do.