by SAGE MARKANDEYA
Translated into English by LYNDAL VERCOE
Read by TIM BRUCE – Available now on Audible
(with original music composed and performed by Tim Bruce)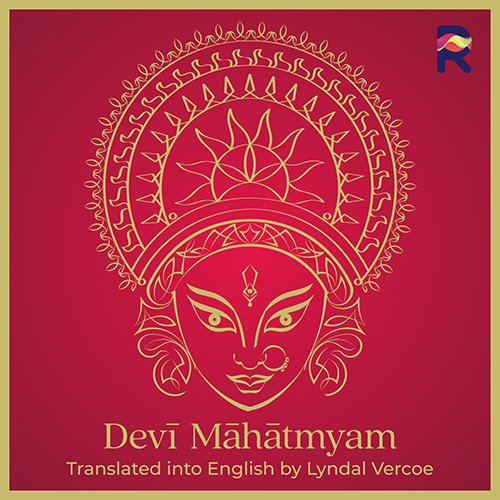 Celebrating the ultimate triumph of good over evil, the Devi Mahatmyam is an epic poem to the Divine Mother, a song of praise that echoes through the ages. Sage Markandeya talks in great depth about the Mother Goddess, the Mother of this universe. She is the one who sustains us as the Mother Earth and who resides within every human being as the Kundalini.  This is Markandeya's message for us today.
It features:
Devi Mahatmyam (read in English)
The Kavach of the Devi (read in English)
Shri Siddha Kunjika Stotram (sung in Sanskrit)
A Classic Text of Indian Literature
Nearly 1500 years after its creation, the Devi Mahatmyam remains a firm favourite among millions of people across the world, of equal cultural significance within Indian Sanskrit literature to the Bhagavad Gita, Mahabharata and the Ramayana, and forms the focus of much of the devotion taking place during the Indian festival of Navaratri (from 17-25 October 2020).
One of the Greatest Stories Ever Told
When asked what had attracted an award-winning British actor to produce and narrate an audiobook of an ancient Sanskrit classic, Tim Bruce genuinely felt that it is probably the greatest story ever told, as it works on so many levels. You can either read it as a simple child's folk tale or as one of the most profound texts ever written anywhere in the world. Lyndal Vercoe's vibrant translation maintains a perfect balance between keeping true to the original, while being accessible and enjoyable to listen to. The story rips along with heroes, demonic villains, massive set-piece battles and at the centre of it all is the life-giving presence of the Divine Mother showering Her love upon Her children.
Woven into the English narration are timeless moments of mantra and original music, composed and sung by Tim Bruce. Tim first studied Indian Classical singing with Pandit Arun Apte at the Shri PK Salve Kala Prathishtha in Vaitarna (India) and later with the renowned Pandits Rajan and Sajan Misra. This interest grew naturally out of years of meditation and from a growing appreciation of the great masters of Hindustani classical music.
A Devi Mahatmyam for Our Time
The story offers comfort and encouragement and alleviates our anxieties and fear. It nurtures a strong positive feeling of protection and wellbeing within the Heart chakra, stimulates the energy of the sternum bone that produces the antibodies that fight infection and is of particular benefit to mankind today, as the world struggles to cope with the many physical and psychological challenges and the increasing pressures of modern life.
Here's actor Tim Bruce, talking about his narration of this great work:
What Listeners Are Saying:
"A superb reading of a great classic story. I have read several translations of the Devi Mahatmyam but have never read one that so beautifully captures the spirit of the original.
This is a work to be read and savoured in these turbulent times. My Russian wife has read an excellent translation in Russian and she and I listened to Tim Bruce's reading in two sessions on a recent long road trip. It is spectacularly good and we will listen to it, again and again."
★★★★★ 'A great masterpiece' ★★★★★ 'Spectacularly good' ★★★★★ 'A great classic' (Audible customer reviews)