Raconteurs is a collaborative, creative partnership of audiobook narrators – each one of us with an extensive individual portfolio of published audiobooks – including Earphones and One Voice Award winners and audiobook award nominees from the Society of Voice Arts and Science (SOVAS), One Voice Awards (OVA), and the Audies.
Tim Bruce
Nominated for SOVAS Best Audiobook Narrator Award 2017, when not in the studio recording audiobooks, video games or other voice-overs,  Tim is a familiar face on television and on stage in the UK and around the world.
He appears in The Crown, Years And Years, Kingsman, The King of Thieves, X Company, Bleak House, Bottom Knocker Street, Hollyoaks, Family Affairs, 55 Degrees North, Byker Grove, In Suspicious Circumstances, Bright Young Things, Once Upon a Time in London, Remainder, The Italian Key, Boheme.
Tim is also an accomplished singer, appearing in the West End production of Blood Brothers, numerous operas.  and a ton of audiobooks for publishers in the UK, US, Canada and Australia.
Tim is a member of Equity and The Audiobook Creators' Alliance(ACA) and is an active member of Equity's Audiobook Working Party.
Liam Gerrard
Liam is a BAFTA and triple One Voice Award-nominated actor and voiceover artist.  He has narrated over 100 audiobooks, spanning all genres from politics, philosophy, economics, military history, classics, modern contemporary and classic fiction, to romance and young adult recording for international publishers in the UK and the US.
His film and television work includes Mike Leigh's Peterloo, Death Defying Acts, Butterfly, Coronation Street, and Hollyoaks.  Theatre work includes numerous Shakespeare and classic plays including Strindberg's Miss Julie, Brecht's The Caucasian Chalk Circle, Chekhov's The Cherry Orchard, Rigoletto, and many more at Sheffield Crucible, Manchester Royal Exchange, Edinburgh's Royal Lyceum, New Vic, SJT, Soho Theatre, New Wimbledon Theatre, Watford Palace, Theatre by the Lake, Liverpool Playhouse and others.
Liam has recorded numerous radio plays and records local, national, and corporate voiceovers on a daily basis.  He is the module leader and lecturer in Broadcast Voices and Voiceover Production at Sheffield Hallam University.
James Gillies
James Gillies has been a familiar voice across BBC television and radio for nearly a quarter of a century. He has worked as an actor, continuity announcer, programme narrator and newsreader, even reading the Shipping Forecast. Trained at the Royal Scottish Conservatoire in the 1970s, he taught Speech and Drama and Theatre Studies for much of the next decade developing many of the country's first school examinations in the subject.
Finding himself in demand as a professional voice actor along the way, he was recruited by the BBC in the early 1990s. In 2013, he left in order to concentrate on his favourite part of the job: performance and, in particular, storytelling. Since then he has been in demand worldwide, recording generally one to two audiobooks per month, voicing television ads in the UK, USA, Russia, Scandinavia and the Middle East, and providing voice tracks for television, film, gaming and on-line projects.
James lives with his wife, a former orchestral violist turned book editor, and their cat in the picturesque valley of Glenrinnes on beautiful Speyside amidst the splendour of the Scottish Highlands.
Helen Lloyd
Trained at the Guildhall School of Music and Drama, Helen spent the first two decades of her working life in theatre before moving into television, initially as a presenter and subsequently as documentary programme producer for ITV Regional, while at the same time building an impressive voiceover resume, voicing over fifty documentaries, as well as recording voiceovers for corporate and commercial clients – and way back when – when tape and cassettes were the norm, a series of audiobooks – thankfully, no longer available!
Winner of the One Voice Awards Best Fiction Audiobook Performance Award 2019 for Lady Osbaldestone and the Missing Christmas Carols (Blackstone Publishing) and nominee in 2018 and 2019 in the One Voice Awards best non-fiction Audiobook performance category and SOVAS best biography audiobook nominee 2019 for But My Brain Had Other Ideas, Helen narrates audiobooks for publishers and production houses around the world, recording in both mainstream studios and remotely, from her personal studio in Derbyshire. Helen also runs a successful Audiobook Narration Coaching Course.
Helen is a member of Equity (Audiobook Working Party), is an Associate member of The Audiobook Creators' Alliance (ACA), and a member of the Audio Publishers' Association in the USA (APA) and The Book Machine.
Nigel Patterson
Nigel has earned three Earphone Awards from AudioFile Magazine, who commented that 'his keen ear and impeccable diction give insights into the prevailing attitudes of the period [and] his wholly credible characters stay with you long after you unplug.'
Nigel has lived in both the USA and the UK, working in film, theatre, and voiceover and now lives in the UK recording for audiobook publishers in the United Kingdom and in America from mainstream studios and from his personal studio in the south of England..
Born and raised in London, Nigel is a fluent speaker of French and Spanish – and is renowned for his mastery of accents and dialects from around the world.
Nigel is a member of SAG/AFTRA, The Audio Publishers' Association (APA), The Audiobook Creators' Alliance (ACA), Actors' Equity (AEA) and UK Equity.
Greg Wagland
Like many UK based narrators, Greg's first taste of audiobook narration was recording with the RNIB, the Royal National Institute for the Blind and their famous 'Talking Book Service', recording his first audiobook for them in 1992.
Since then Greg has recorded over a hundred audiobooks across all genres including comedy and humour, detective stories and mysteries, ghost stories and chillers, non-fiction and poetry. Greg records remotely and in mainstream studios, working with publishers around the world.
As a publisher, Greg publishes classics on various platforms under the imprint Magpie Audio.
Greg is a member of Equity and is an Audible Approved Audiobook Producer.
Malk Williams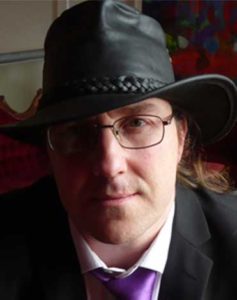 With a background in live storytelling and folk singing, Malk is a full-time audiobook narrator and voice actor.
A relative newcomer to audiobooks compared with some of his fellow Raconteurs, with a mere six years in the studio, he has nevertheless won three Earphones Awards from AudioFile Magazine during that time, gaining particular praise for his range of character voices and accents, and worked on audiobooks both fiction and non-fiction, across a wide range of genres.
Malk regularly narrates audiobooks for a variety of production companies and publishers in the UK and the US, as well as recording weekly articles from the FT and the Guardian, among other well-known publications. He has also provided character voices and narration for several video games, as well as a wide range of voiceover work.
Malk is a member of Equity, the Audiobook Creators' Alliance (ACA) and the Voiceover Network (VON).